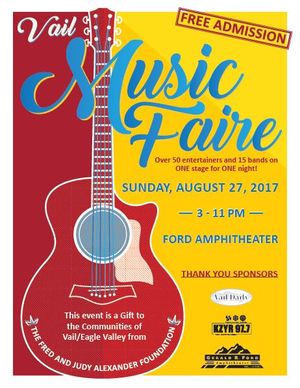 The Vail Music Faire 2016 took place in Vail, Colorado at the Gerald R. Ford Amphitheater on August 28 of 2016. It encompassed 15 bands and was sponsored by the Fred and Judy Alexander Foundation and Peter Fontanese Productions. Special thanks to Betsy Bradley, KZYR, Tony Mauro, Tom Dobrez, The Vail Daily, Vail Myriad Productions, Ford Amphitheater and crew, Vail Valley Foundation, Kaylee Brennand, Todd Howe Productions, Stephen Ridgway and Walt Bujaryn.
Click on the link below which will take you to youtube and hear all these great shows!
2017 Line-up:
3:00 P.M.    MOUNTAIN HARMONY
3:20 P.M.    CHEF'S CHOICE
3:40 P.M.    J. CLAY REED AND FRIENDS
4:00 P.M.    BRENDAN McKINNEY AND FRIENDS
4:20 P.M.    JUSTIN ALLISON & FRIENDS
4:50 P.M.    HARDSCRABBLE
5:20 P.M.    NICK STEINGART AND SKIN THE RABBIT
5:40 P.M.    MAC McCAIN & FRIENDS
6:00 P.M.    RENEGADE SONS
6:30 P.M.    THE TURNTABLE REVIEW
7:00 P.M.    THE SESSH
7:30 P.M.    BROTHERS KEEPER
8:00 P.M.    KEVIN DANZIG AND FRIENDS 
8:30 P.M.    HARRY BAXTER WITH SPECIAL GUESTS
9:15 P.M.    DON WATSON AND THE VAIL VALLEY BAND WITH SPECIAL GUESTS
10:00 P.M.  BOB FINNIE BAND WITH BRIAN SAVAGE AND SPECIAL GUESTS
11:00 P.M   GOOD NIGHT!